Follow the below instructions if you're seeing this warning: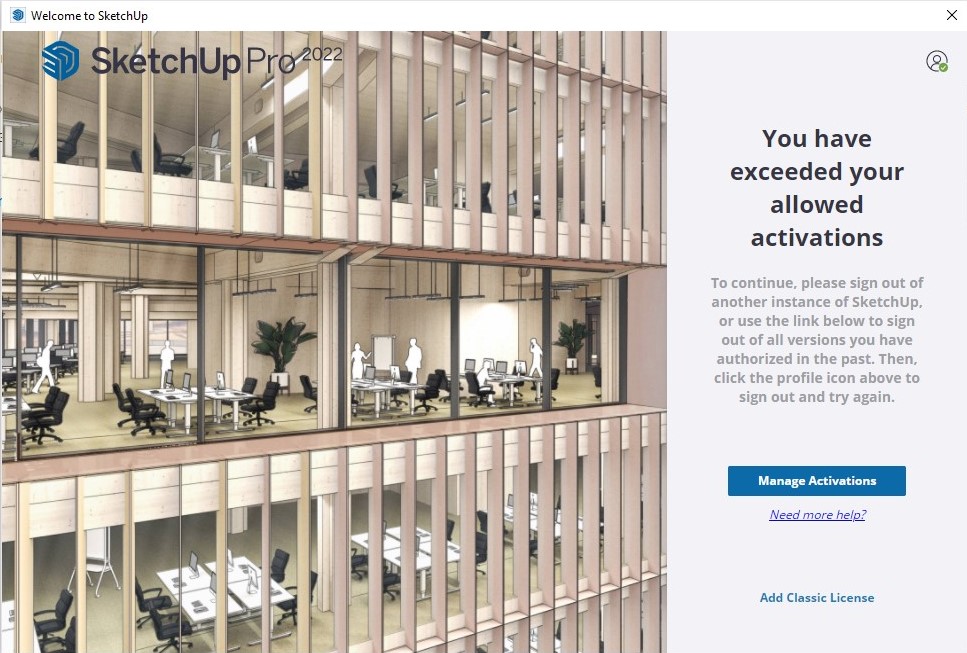 You can either watch this You have exceeded your allowed activations instructional video, or you can read through the instructions below, or you can do a bit of both!
(The video was recorded for SketchUp 2021, the same error had a different name back then, but the steps to resolve the error are unchanged.)
Click the "Manage Activations" button on the "Welcome to SketchUp" window.
Enter your Trimble ID Password
Click "Sign in".
Your Trimble ID may have access to multiple Trimble Accounts. Trimble Products that you've purchased from BuildingPoint Australia should be accessible from the Trimble Account with the sub title "Purchased via BUILDINGPOINT AUSTRALIA PTY LTD", so open that account.
Open "My Products".
If you've purchased a SketchUp Pro/Studio subscription (Product) for yourself, or you've been allocated one by a Trimble Account Administrator, it should be listed on this page.
You can view what Applications are included with each Product by clicking on the "View Included Applications" button.

In this case, SketchUp Pro should be one of the Included Applications in a SketchUp Pro or SketchUp Studio subscription.

If you can't find the SketchUp/Trimble Product that you would like to access, it might be associated with a different Trimble Account (which might still be accessible using the same Trimble ID). You can switch between all of your Trimble Accounts via the drop down menu just below your name, on the left side of Trimble Account Management page.
Once you've found your "SketchUp Pro" application card, click "Manage Devices" on that card.
Click "Deauthorize All".
Launch SketchUp (the way you normally would), but this time you should be asked to Sign In, please do so using the correct Trimble ID.