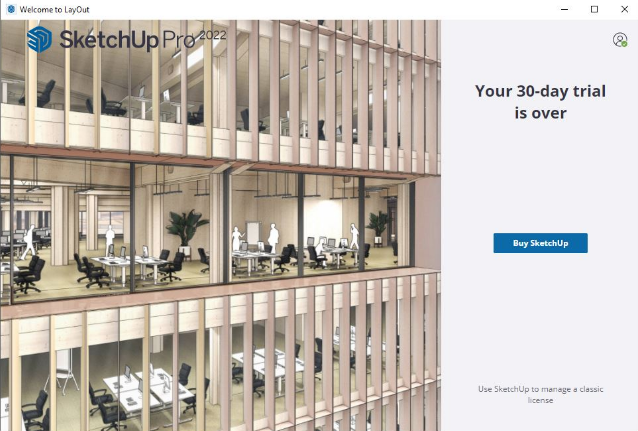 Sometimes when you've completed your SketchUp Studio 30-day free trial, and have subsequently purchased and received delivery confirmation of a SketchUp Pro / Edu / Studio subscription, you may still be presented with the "Your 30-day trial is over" message (when you launch SketchUp). You can fix this by signing out of and then back into SketchUp with the Trimble ID associated with the SketchUp allocation.
Check that your SketchUp subscription has been allocated to your Trimble ID.

Please remember that new subscriptions can take about 1-business day to become active (see ordering notes).

Shut down all instances of SketchUp, Layout and StyleBuilder,
Launch SketchUp, the "Welcome to SketchUp" window should open,
Click on the little "profile/person" symbol in the top right corner of the window,
Click "Sign out",
A web browser page will open confirming that you've signed out of all things SketchUp, go back to the "Welcome to SketchUp" window,
Click "Sign in",
Sign in with your Trimble ID and associated password,
If you've forgotten your password, you can use the "Forgot your password" option.
You should now have full access to your SketchUp products again.
If the above doesn't work for you, please make sure that your default web browser is either Chrome, Safari, Firefox, or Edge:
If the above doesn't work for you, please clear your default web browser cache:
If you continue to experience access issues, please submit a support request.